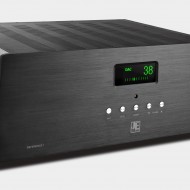 Reference 1 Preamplifier
Reference 1 is the first reference class line-stage preamplifier offered by JE Audio. Reference 1 employs all-tube pure Class-A single-stage wideband balanced amplifier design. 6H30Pi vacuum tubes are used for signal amplification. No semiconductor devices are used in the signal path. Because of employing just one single-stage, Reference 1 has a lower phase shift compared with conventional multi-stage feedback amplifiers. Additionally, no global feedback is used so that the purity of the musical signals is preserved.
Reference 1 line stage preamplifier is equipped with a proprietary design digital potentiometer for volume control. The digital potentiometer is designed in such a way that it only attenuates the incoming signals but does not affect the signal integrity.
Reference 1 line-stage preamplifier presents lifelike musical quality in terms of transparency, dynamic and extraordinary imaging capability. It will meet any demands for high performance audio.
| | |
| --- | --- |
| CIRCUIT DESIGN:  | Class-A single-stage wideband balanced amplifier |
| | |
| --- | --- |
| TOTAL HARMONIC DISTORTION:  | < 0.05% (@ 2V/100k ohm) |
| | |
| --- | --- |
| SIGNAL GAIN: | 18dB (measured when the volume control is bypassed) |
| | |
| --- | --- |
| VOLUME CONTROL | Total 99 steps |
FREQUENCY RESPONSE: 

+0, -3dB from 10Hz to 500kHz
(measured when the volume control is  bypassed)

| | |
| --- | --- |
| INPUT IMPEDANCE:  | > 130k ohm |
| | |
| --- | --- |
| OUTPUT IMPEDANCE:  | 1.5k ohm |
| | |
| --- | --- |
| AC POWER REQUIREMENT:  | 65W |
| | |
| --- | --- |
| DIMENSION:  | H=175mm, W=460mm, D=390mm |
| | |
| --- | --- |
| NET WEIGHT:  | 14.5 kg / 32 pound |
OTHERS
• Come with a remote control
• Six XLR inputs and 3 XLR outputs
• Phase invert and non-invert selectable
• Volume control for L-Ch and R-Ch can be set independently
• Cumulated operation time of the preamplifier iscontinuously stored and can be displayed
Brochure
Reference 1 preamplifier