JE Audio VL10.1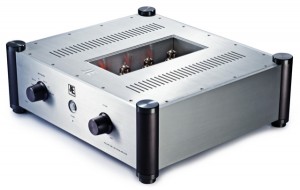 The VL10.1 is built on top of the foundation from our popular linestage preamplifier VL10 with improved performances. The improvements include the use of wideband MOSFET current source, precision DC regulation power supply, capacitors and resistors. In addition, with the use of the patented Wideband Unity Balanced Amplifier (WUBA) design, the sonic result is an improved sound quality with three-dimensional images in a natural acoustic landscape.
Conventional single-ended line amplifier usually consists of two to three amplifier stages in cascading configuration. This is shown in the diagram below. Since each stage will contribute phase shift, noise and distortion, global negative feedback is needed to improve the overall performance of the line amplifier. Because of the single-ended structure, the amplifier cannot effectively cancel out the electromagnetic noise picked up by audio cables.
The VL10.1 has three 6H30 vacuum tubes per channel. Since each 6H30 consists of two triodes (dual triodes), there are six triodes used per channel in the WUBA configuration. The VL10.1 has a total of six 6H30 vacuum tubes and hence; a total of twelve triodes are used.
The WUBA is a single-gain stage wideband balanced differential amplifier design that contains no load resistors, no buffers and no followers. Because of employing just one single gain stage, the WUBA will have the lowest phase shift compared with conventional multi-stage feedback amplifiers. Additionally, no global feedback is used so that the purity of the musical signals can be faithfully preserved.
On the other hand, JE AUDIO has spent extensive hours to select the best available vacuum tubes in the markets based upon their sonic merits and operation stability. All tubes are burned in for at least 50 hours before they are tested for electrical characteristics so that matched tubes can be obtained.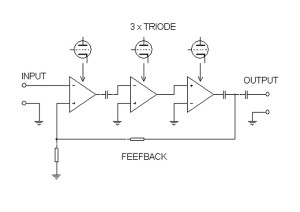 Block diagram of a conventional single-ended line amplifier by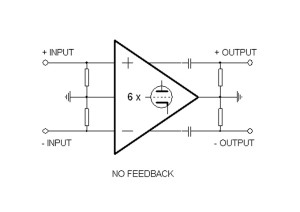 Block diagram of the VL10.1 line amplifier employing the Wideband Unity Balanced Amplifier (WUBA) design. Each 6H30 consists of two triodes (dual triodes). A total of six triodes are used per channel.
Features
Three sets of balanced inputs (also provide three sets of RCA inputs).
One set of balanced output (also provide one set of RCA output).
Patented design (WUBA – Wideband Unity Balanced Amplifier) improves low-level balanced signal integrity.
Use of wideband MOSFET current source to improve Common-Mode Rejection Ratio (CMRR).
No load resistors, no buffers and no followers.
No global negative feedback.
No semiconductor transistors, op-amps and transformers for signal amplification.
Wide bandwidth, 500kHz.
Dual mono channel design with premium dual mono power supply.
Premium grade R-core power transformer and shielding facility are used to reduce noise and electromagnetic interference.
Premium grade signal capacitors and resistors.
Modern chassis design improving looking and heat ventilation.
Soft-start circuit reduces the inrush current when switching on. It also ensures that in the first 30 seconds a reduced supply voltage is applied to vacuum tubes. This prolongs life of all rectifying diodes, power supply filtering capacitors and vacuum tubes.
Specifications
| | |
| --- | --- |
| CIRCUIT DESIGN:  | Wideband Unity Balanced Amplifier (WUBA) |
| | |
| --- | --- |
| TOTAL HARMONIC DISTORTION:  | < 0.05% (@ 2V/100k Ohm load) |
| | |
| --- | --- |
| MAXIMUM OUTPUT:  | > 40V (@100k Ohm load) |
FREQUENCY RESPONSE: 

+0, -3dB from 10Hz to 500kHz
(Measured when the volume control is bypassed)
INPUT IMPEDANCE: 

> 47k Ohm (Single-ended input)
> 94k Ohm (Balanced input)
| | |
| --- | --- |
| OUTPUT IMPEDANCE:  | 1.1k Ohm (Each phase) |
| | |
| --- | --- |
| S/N RATIO:  | > 85dB (Balanced output) |
| | |
| --- | --- |
| DIMENSION:  | H=150mm, W=445mm, D=395mm |
| | |
| --- | --- |
| NET WEIGHT:  | 14 kg / 31 pound |
Brochure
Line amplifier VL10.1