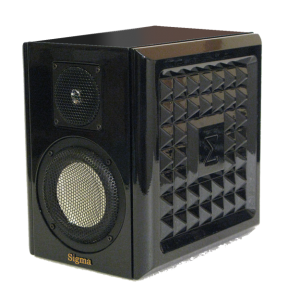 Description 2 way, Bass Reflex
Technical Characteristics
Sensitivity : 88 dB/W/m
Nominal Impedance : 6 ohm (4.1 ohm minimum @ 250Hz)
Frequency response : 34Hz – 100.000Hz
Crossover Frequencies : 3800Hz
Dimensions : 29x21x29 cm (HxWxD)
Weight : 6.7Kgr each piece
Colors: Black lacquer (standard) or White lacquer (optional)
Detailed Features
The Drivers :
all carefully manufactured by Accuton Germany
Tweeter : 3/4″ Diamond
Woofer : 5.25″ Ceramic
The Cabinet :
Rigid construction 25mm MDF, multi-asymmetrical braced structure,
internal pyramidoid threadment, eliminates static waves.
The Crossover :
Advanced innovative series crossover topology. Our ultra-minimal crossover
design makes Heaven one of the highest sensitivity loudspeakers of its league,
with micro-detailed crystal clear natural sound. Only carefully selected
and matched crossover parts are used, including flat wire coils
and selected MKP capacitors. Heaven is "amplifier friendly",
makes it ideal match for any type of amplifier,
including vacuum tube amplifiers.